Earlier this week, 150 business leaders sent Legault an open letter urging him to delay some clauses of the language law.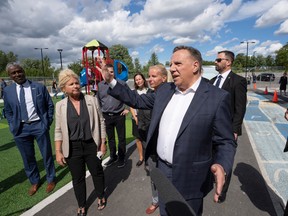 TROIS-RIVIÈRES — Despite the views of 150 captains of industry, Premier François Legault says he does not believe Quebec's language law, Bill 96, is bad for business.
Commenting on an open letter sent to his office in which business asks for a delay in the application of some clauses, Legault said he believes the law, adopted in May before the National Assembly was dissolved for the election, strikes the right balance between protecting French and economic growth.
Montreal Gazette Headline News
Sign up to receive daily headline news from the Montreal Gazette, a division of Postmedia Network Inc.
By clicking on the sign up button you consent to receive the above newsletter from Postmedia Network Inc. You may unsubscribe any time by clicking on the unsubscribe link at the bottom of our emails. Postmedia Network Inc. | 365 Bloor Street East, Toronto, Ontario, M4W 3L4 | 416-383-2300
He noted many of the clauses of the bill are being phased in over time, which allows businesses a chance to adapt.
"Already included in the bill is a transition period of three years," Legault said at a news conference held in a Montérégie sugar shack Wednesday morning. "But I won't compromise. Yes we want to work to create jobs, better paying jobs and create wealth, but it won't be to the detriment of French.
"I guarantee we will stop the decline of French, including in Montreal, but (also) in Quebec in general."
Legault was reacting to a letter sponsored by the Council of Canadian Innovators and signed by 150 Quebec business leaders. When the letter was sent to his office in June, it had the signatures of 37 business owners and leaders. Organizers say there has been a groundswell of support since.
It specifically asks that Legault suspend the application of several clauses in the law including the one requiring all new arrivals to communicate exclusively in French with the state six months after their arrival.
The business lobby says that clause just accentuates their problems recruiting workers as Quebec is experiencing a labour shortage.
The letter opens with a warning: "You cannot have a vibrant francophone society if you don't have a prosperous economy to support it and, as it stands, Quebec's new language law, Bill 96, is threatening to do enormous damage to the province's economy."
Legault, however, disputed the statement.
"They'll have the time to adjust," Legault said. "Second, it's important to have two objectives; yes, create wealth but, yes, also protect French. When I see in Montreal, right now we're at 56 per cent of people in Montreal working in French, we have to be careful about the language of work."
He disputed the assertion that the six-month limit in which immigrants can get services in their language is not realistic, saying the government will nevertheless provide translation services for those who need it.
"I think that Bill 96 is a balanced bill and it's important to have a balanced bill," Legault said. "It's important to protect French and French will always be vulnerable."
Business groups have criticized the legislation from the first day it was presented. Under a timeline provided by the government, businesses have until June 2025 to change their trademark commercial signs to ensure the "net predominance" of French.
It is not until June 2025 that smaller businesses with 25 to 49 employees have to follow the francization rules of the charter, which ensure workplaces conform to Bill 96.
Legault also defended the clause in the bill requiring municipalities that currently have a bilingual status under the Charter of the French Language — but have a population where fewer of its citizens have English as a first language — to take a vote if they want to preserve that status.
"We take as a given that they are representatives of the population," Legault said. "So if they are ready to take the pressure to keep bilingual status, well it's them who decide."
We apologize, but this video has failed to load.
Legault's day started with an announcement in Montérégie region. He said if re-elected Oct. 3, a Coalition Avenir Québec government would slap a freeze on most government fees, including Hydro rates, automobile registration and driver's permits and public subsidized child-care costs.
All fee increases would be capped at three per cent. If the inflation rate is lower, the increases would be lower.
And later in the afternoon, the CAQ campaign pulled into the Laval region where the Liberals currently hold five out of the six ridings. Sainte-Rose MNA Christopher Skeete is the only incumbent CAQ MNA in Laval.
Speaking to reporters at a modern new elementary school, Legault announced a CAQ government will invest a further $2 billion in upgrading and renovating Quebec's schools.
That's on top of the $7 billion Quebec pledged to spend over four years in last March's provincial budget. An estimated 59 per cent of Quebec's 3,500 schools are in a state of disrepair.
Legault said the new money will allow Quebec to upgrade about 600 schools, installing new windows for better light, increasing the size of gymnasiums and adding more labs.