Things You Never Knew Your Hue Bulbs Can Do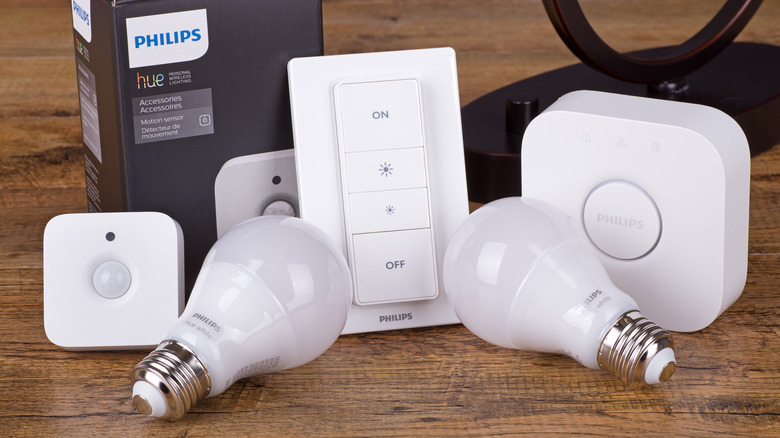 Charles Brutlag/Shutterstock
Smart lights are a simple way to elevate your home's design, inside and outside. That said, not all smart bulbs are created equally. Philips is easily one of the best brands when it comes to smart lights, specifically bulbs. 
The Philips Hue bulb doesn't need a smart hub or even Wi-Fi to operate, so you can control the lights from the mobile app with Bluetooth even if the internet goes down. There are three different color ranges to choose from, including white, white ambiance, and white and color ambiance. Your decision will likely be based on where you plan to put the Hue bulbs. For example, if you're investing in Hue bulbs for the living room, you'll probably want bulbs with color features so you can sync them with your television or music for a fun light show. 
Although some Hue bulbs are brighter, the average bulb produces around 800 lumens, which is about the same as a 60W incandescent bulb or a 12W LED bulb. Plus, the newest version of Philips Hue bulbs can last for a whopping 25,000 hours, so even though you'll be spending more money upfront, you'll save a ton of money in the long run by not having to replace bulbs as often.
Have your lights wake you up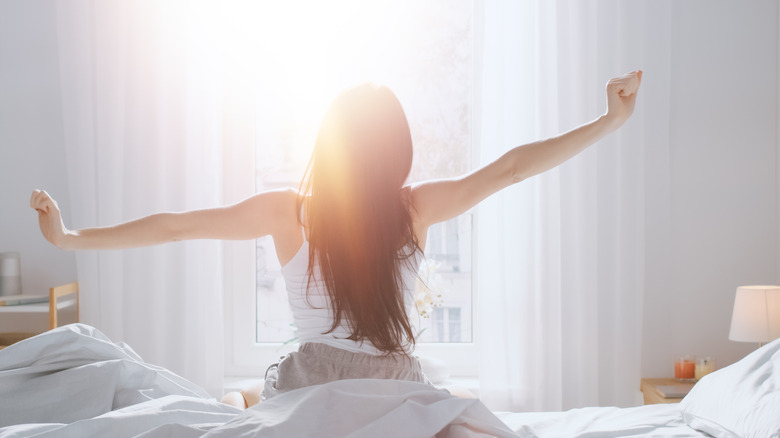 Gorodenkoff/Shutterstock
Anyone who's not a morning person understands just how difficult it is to fully wake up in the morning. Your alarm goes off multiple times, you smash the snooze button, and end up running late often. Luckily, if you have Philips Hue bulbs, you can use them to help you get off to a better start in the morning.
In the Philips Hue app, available on Android and iOS, you can create customizable bulb settings, or "light recipes," that you can build into your morning routine. The app even comes with four light recipes designed by experts to start you off. You
Then, you can download the IFTTT app, which is also available on both Android and iOS platforms, to personalize your morning lights even further. This app allows you to set your Hue lights to match the cover art of one of your favorite albums and pulsate to the song's rhythm, which makes a much nicer alarm clock. Or, you can also enable a feature that makes your lights get brighter and warmer every time your alarm clock goes off.
Use your lights as a reminder to go to sleep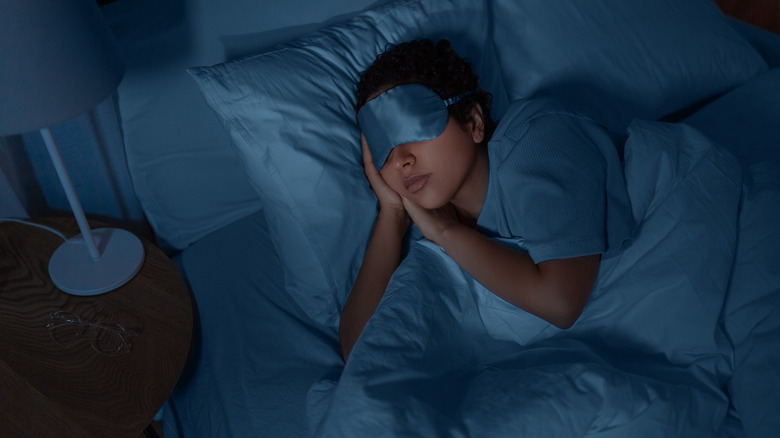 Syda Productions/Shutterstock
Just like you can use Hue bulbs to help you wake up in the morning, you can also use them when you go to bed at night. And the best part? You can do it all from within the Philips Hue app.
When you're in the app, you'll see an Automations tab. This is where you can find pre-built routines and automation ideas from Philips lighting experts, or you can create your own routines by selecting Custom. Then, you're able to select sunset as a variable, and your lights will automatically begin to dim at sunset in your area. You can set the Fade duration from 0 to 60 minutes so that the lights gradually dim and signal bedtime.
To make this automated feature work, you'll need a Hue bulb, obviously, the Philips Hue app, and a Hue hub called the Hue Bridge. You can do so much more with the Hue Bridge incorporated into your smart home, so even though it's an extra $60 purchase, it's worth it.
Sync your bulbs with your music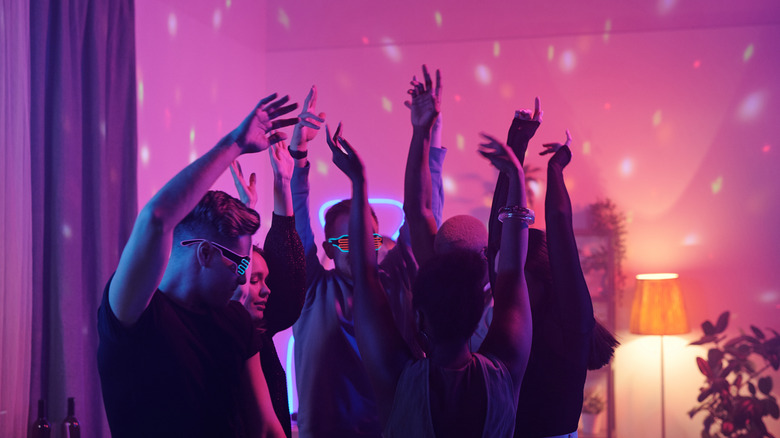 Pressmaster/Shutterstock
Syncing your smart lights to music is a classic party trick. Most, if not all, smart lights you come across will have this feature because it's easy to implement and everyone loves it.
Philips uses specially crafted algorithms to ensure that each light script is perfectly tuned to the song you're jamming out to, not just to the beat but also to the overall mood of the music. Then, your lights react accordingly. So instead of the lights pulsating with the beat of a song, you might experience soft, moody light changes with a slow ballad and more drastic, high-energy colors and light changes with an upbeat song.
You can customize the way your Hue bulbs react to certain songs or playlists, including the intensity and brightness of the bulbs as well as setting a color palette for a certain song or genre. Connecting Philips Hue to the Spotify app is the most popular option for syncing your bulbs to music, but you can also do so through the Hue Sync desktop app or through a Philips Hue Play HDMI Sync Box.
Set your lights to match the weather outside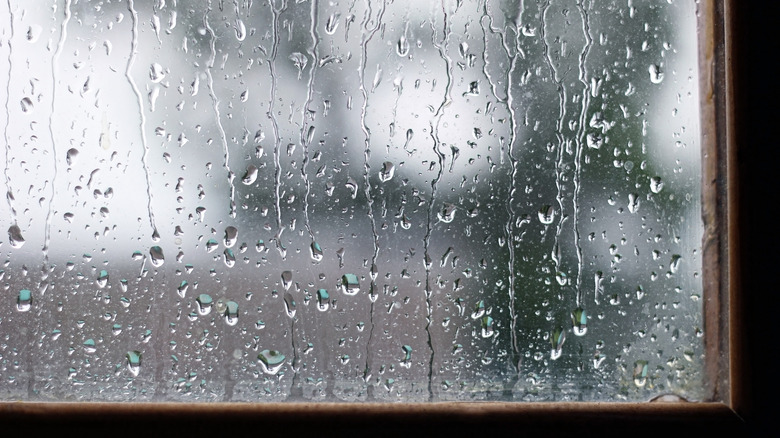 ju_see/Shutterstock
If you're one of those people who find rainy weather or thunderstorms to be incredibly comforting or inspiring, you'll love this trick. You can set your Philips Hue bulbs to match the weather outside, whether it's sunny, cloudy, snowy, rainy, or any other possible condition.
There's a dedicated app that can help you achieve the thunderstorm vibe, but it's not free. Thunderstorm For Hue only costs a few dollars, and it's an awesome premium option for quick and easy thunderstorm light parties in the comfort of your home. But if you don't want to spend any money, there's a free option.
Through the IFTTT app mentioned earlier, you can create custom light commands based on the detected weather conditions outside. For example, you can set your lights to turn blue when it starts to rain outside. Or, you can always create a custom color palette and manually select that palette to match weather conditions outside.
Add a motion sensor to your setup
By adding a motion sensor to your smart light setup, you can save money and energy. Philips has a motion sensor specifically designed to work with its Hue bulbs, appropriately titled the Hue Motion Sensor. And luckily, setting up the motion sensor is just as easy as setting up the Hue bulbs.
Every home is different, so the placement of the motion sensor will vary based on where people walk frequently and how much light is in an area. The motion sensor is able to detect the amount of daylight coming into the room, so if you have a room that's constantly dark or bright, you might need to adjust the sensitivity in the Hue mobile app. If the bulbs detect daylight, it'll essentially disable the motion sensor so your lights don't turn on and off unnecessarily.
Also, if you find that the motion sensor is too sensitive or not sensitive enough when people walk by, you can adjust this within the mobile app. Setting it up and finding the perfect amount of motion and daylight sensitivity might take some time, but you'll be super happy with the finished product.
Randomize your lights while you're on vacation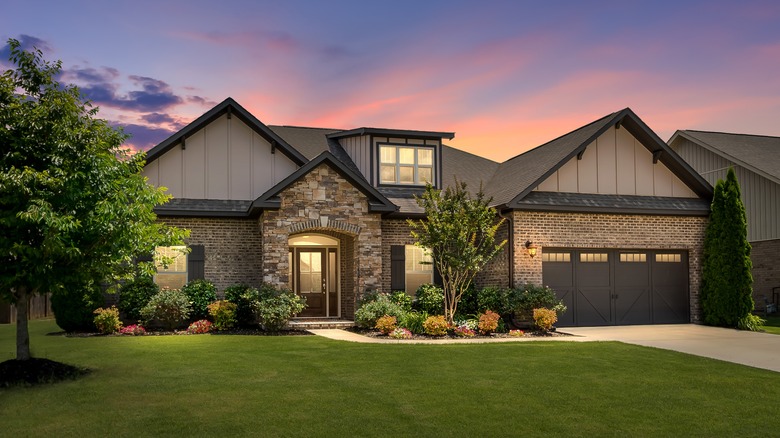 Right Home Media/Shutterstock
Going on vacation is a much-needed escape for everyone, but there are so many things to think about leading up to the vacation that can cause stress. Luckily, your lights don't have to be one of them if you have Hue smart bulbs.
With Philips Hue bulbs, you can set schedules for your lights to come on while you're away on vacation. This can be for inside or outside lights, wherever you have Hue bulbs installed. Then, if a burglar is scoping out houses, they'll see your lights turning on and off and think that someone is currently home.
Of course, there are other things you should do when going away on vacation to deter burglars, like stopping your newspaper delivery, but an automated light schedule is one of the smartest tricks. You can set your lights to come on at regular intervals in the morning, afternoon, and evening, or at random intervals throughout the day to mimic more of a presence.
Sync your lights with movies or games for a more immersive experience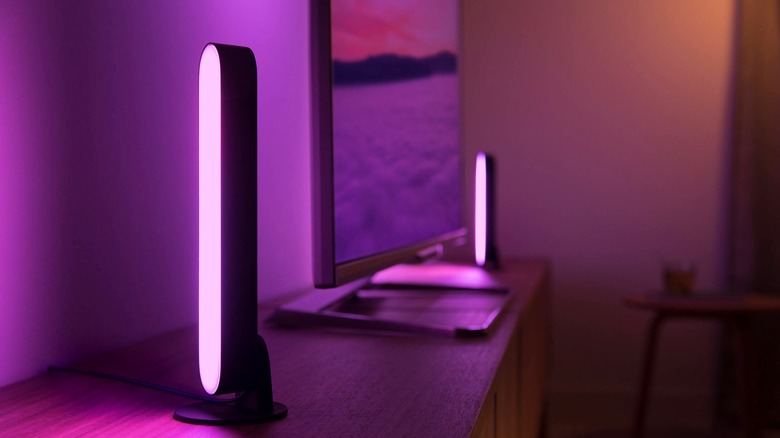 CRYSTAL RICKETSON/Shutterstock
Everyone knows that audio is a vital part of an immersive experience when playing a video game or watching a movie. But did you also know that your lights can play a huge part in the experience as well?
Philips has partnered with content producers in the gaming and entertainment industries to create the best possible experience. Using your lights during a movie or game won't cause latency issues and it's super easy to link up your Philips Hue bulbs to any media. Similar to syncing your Hue bulbs with music, you'll do it from the mobile app and see music react uniquely to the movie you're watching or the game you're playing.
The Games and Video mode in the mobile app take the info from your screen and colors the Hue bulbs accordingly. Then, you can choose from a few different intensity modes, which differ in how quickly the lights shift colors. This is great if you're watching a movie and you don't want the lights to be constantly changing colors or if someone around you is sensitive to flickering lights.
If you want an even more immersive experience, Philips has other lights that are better suited for the area around your television or computer. Check out a Philips Hue light strip or the Play Light Bar if you want to upgrade your entertainment setup.
Use your lights as a fun, colorful timer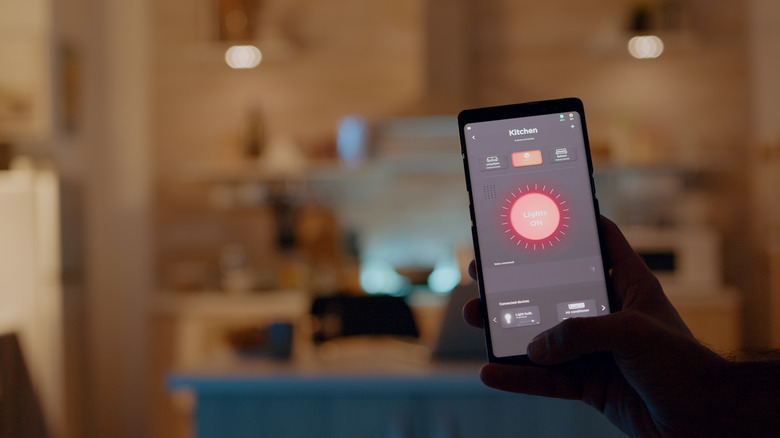 DC Studio/Shutterstock
Using Philips Hue bulbs as a timer was a feature of the original Hue mobile app, but then it was removed. Luckily, with version 4.2 of the Hue app, light timers returned! So you can use your lights as a way to signal when a certain amount of time has passed. This is perfect for study sessions, cooking dinner, or any other situation you need to keep track of time.
Within the mobile app, there's an Automations button where you can find the Timers tile and customize as many timers as you want. You can set how long you want the timer to run, from a single minute up to 24 hours. Then, you can also choose up to four rooms or zones you want the timer to control or set it to control your entire home's lights.
Plus, if there's a timer you need to use frequently, you'll be happy to know it'll stay in the Automations section of the mobile app even after it's completed. You can delete timers you don't need, but for the ones you want to keep, you won't have to customize the settings again.
Get mobile notifications through your lights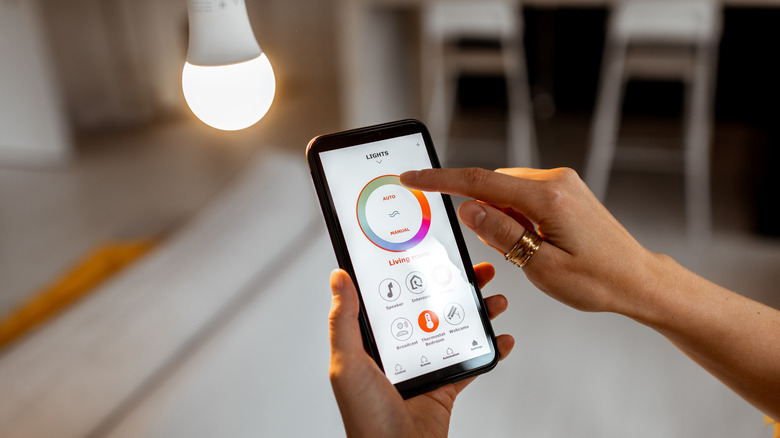 RossHelen/Shutterstock
You'll find a lot of useful applets for your Hue bulbs through the IFTTT service, but one of the most useful ones involves mobile notifications. You can coordinate your mobile notifications with your Hue bulbs so that your lights blink whenever you receive a notification from a designated app. This can be for any app you want, like Twitter, Spotify, Instagram, Tiktok, or your messaging app.
This feature can come in handy for a few different situations. If your phone is charging somewhere and you're trying to complete some chores, you can go about your day knowing you don't need to check your phone unless the lights blink. Similarly, if you're someone who uses their phone to procrastinate, you can set it across the room from you or in an entirely different room and know you're not missing any important notifications.
Automatically turn on when you get home, and off when you leave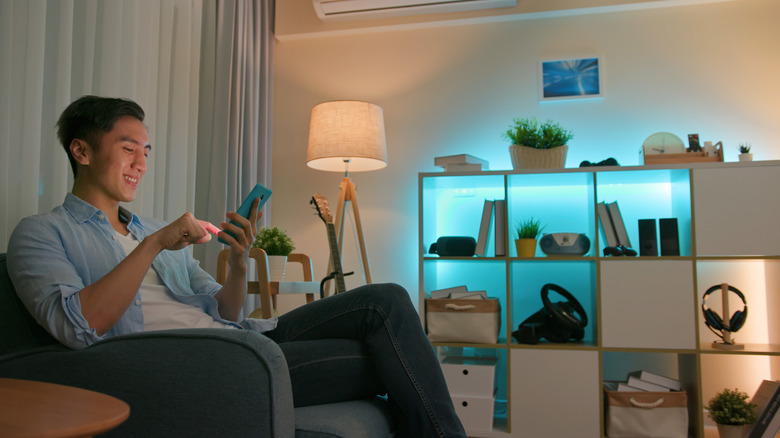 aslysun/Shutterstock
This is another neat feature that requires the Hue Bridge hub, which is only $59.99 at the full retail price. With your bulbs, the Hue Bridge, and your router all connected, you can enable your lights to turn on when you arrive home and turn off when you leave.
If your hands are full and you can't turn off the lights on your way out of the house, no worries! Your lights have your back. By plugging the Hue Bridge into your router, your light's Zigbee signals are able to be translated into something your home network can easily understand and execute.
In the Philips Hue mobile app, you'll set up a routine for Coming Home and Leaving Home. You can choose exactly which lights you want to turn on when you arrive as well as brightness and color settings. Then, you have to enable your phone's location and allow the Hue app permission to your location. This is how the app knows when you get home and when you leave, and thus when to turn the lights on and off.